Scene revisions completes in past week: three.   Scene revisions still to be done…????   All so far have been more complicated than just weed-whacking away excess.   I read it, re-read it, re-read it again, finally realize that it's a multiple-layer problem, and devise ways to fix it.   What kinds of things are complex problems?   Characters not in character,  motivations that make no sense, motivations lacking or not conveyed with precision, scene creates new branch that doesn't go anywhere in this book…that kind of things.
Timeline work in the past week…narrowing the gaps, but not completed.   Timeline work includes getting events attached to the "Official Timeline", checking that they not only actually go on that date/hour, but that they're not overlapping something they shouldn't overlap, and that all internal transitions connect what they're supposed to connect.  For instance, a scene thought originally to belong on (fake date)  Saturday the 4th of March, that should be happening after what happens on April 6th, but before what happens on the 9th, can't just be stuffed in on April 7 and left there.  Because INSIDE the scene people may mention dates, happenings, etc. that now conflict with the later date, from comments on weather to people…where they are, what their plans are.
80-acre news…late last week, in a thicket near the north horse lot, I heard a bird song I had not heard before except in a recording years before (my choir director's auditory training for the choir really helps in other fields!!!)  I was sure it was a vireo, and not our "common" vireo (white-eyed) and suspected it might be a black-capped…dug out Sibleys and an old but excellent local wildlife guide for several counties in this area, and then went online to listen to every possible vireo call in our area.   Definitely not White-Eyed,  or Bell's, or Red-Eyed.  It could've been one of two: Black-Capped or Warbling, and to me sounded a bit more like Black-Capped, which was almost extinguished but is now recovering, according to Texas Parks & Wildlife.    I could not see the singer clearly due to poor light conditions that day–and lots of little birds were zipping in and out of that thicket, feeding on the juniper berries  of a juniper on the south side (I was on the north side, with a fence between.   Also no camera or binocs with me that day.  And later, when I came back out with those, the birds were gone.  No birds in those bushes & trees at all–the sun had finally come out, bright and hot. and they'd moved.  However, either the Black-Capped or the Warbling Vireo would be a new species for our place.   Hopefully they'll come back next year.
Also–this past week the ironweed started blooming, its saturated purple and height striking as usual.  A fair number of butterflies, including the big Tiger Swallowtails, a few monarches, Giant Swallowtails, lots of the commoner species.  Many grasses started yellowing due to heat and no rain until Sunday night when we got a big hard rain, followed by softer rains off and on through the day and a final tenth of an inch, gently, last night.  Just over an inch altogether.  No runoff, no increase in flow in the main creek, but suddenly the wilting grass is back to upright and green.  The deep-rooted tallgrass members (Big Bluesteam, Little Bluestem, Indiangrass, Switchgrass, Lindheimer Muhley, etc.  are doing fine–they have deep roots and hadn't wilted at all.  Mexican Petunia is also purple, a softer purple, and was refreshed by the rain yesterday.   Maximilian Sunflower, the big native sunflower, has formed the wide mounds that will soon send up flower stalks, each with multiple sunflower-colored blooms on it..  The native trees all look happy; the bur oaks we've planted have thickened and even those late leafing out after the freeze came out later and are now well-leafed.  However, the big old post oak just on the other side of our north fence, has no acorns  coming along on it this year.
I've made my 1/3 weight-loss goal this week (have now lost just over 20 pounds).   Not counting week one, the average loss per week is 1.6 pounds, nicely in the safe range where I wanted to be.  There are variations, in both directions.  When I went out to do my "land walk" today,  I took along cellphone, keys, camera, binoculars, liter of water & ice, and was wearing short but thick rubber boots…total of about 14 pounds , which yes, I felt going up-slope in the sun.  Back when that weight was on me all the time…I didn't enjoy walking out in summer at all.  Expect to lose another 5 pounds by my next dental appointment toward the end of this month and hit the halfway mark of this project early in October.
Vultures and (?) other birds, after leaving their cellphone tower perch, hunt for a thermal to help them rise way up.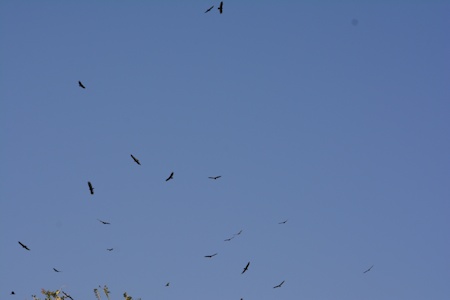 Most of these are turkey vultures with naked red heads and "fingers" on their wings.
North horse lot still green in August, thanks to unusual rains.  R- hauling manure to stack in south horse lot.