What's next?  Well, there's a dentist visit coming up, which will include assessment of the tooth most affected by the face-to-sidewalk smash, some work deferred while working on tech  & organization, including an ad for ArmadilloCon and other arrangements for the release of DEEDS OF YOUTH.   Today was in part folding laundry.  It would've been a good nap except the phone kept ringing and buzzing at me.  SIGH.  Got very little actual rest.  So bed early tonight.  Also need a visit with the eye guy for a new prescription for bifocals and whatever else shows up.  And of course there's more to do on the whole reorganization thing in the OTHER rooms, and a smaller amount to do here in the study even though it looks…really…good right now.
The brain is just coming out of the "whack on the head" fog, familiar from the too-many concussions in the past.  It gets euphoric when it's first whacked  ("I'm fine, nothing's wrong, whoo-hoo!") and then subsides into a peculiar state of blur and drifting, and then begins to realize it's BEEN drifting and not chugging along as it should, and then (I hope!) packs all the parts in tight again, brings the steam up and chug-chugs on.  So, despite the negative clear evidence of concussion on the CT scan, I think whacking my head on the sidewalk DID do concussion-type damage, just not nearly as much.  Some bones are still sore when I touch them, some other things are still uncomfortable, but I'm feeling more mentally here-and-now and less wool-gathery-drifting.
OK: pictures of study makeover not *quite* finished: from the hall door (approx), from the east side of room to my desk corner (window looks NW), from door along S wall to E window.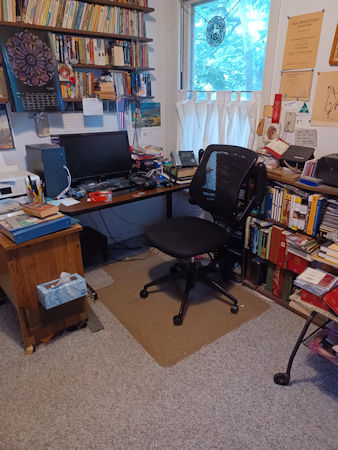 On the last day I found a notebook missing for years–largely because I was so sure it was black I hadn't looked inside the BLUE one.  DUH. Full of things that may show up in future collections, mostly related to Paksworld & fantasy in general.  A BLACK notebook with my first published stories in it (printed on an NEC Spinwriter, for which I found two cartridges), most of these science fiction, for a future SF collection.  I need to get in touch with Texas A&M and have them remove some of the mss that take up an amazing amount of cubage when you've got as many of them as I have.  And they're long books, so fat mss.   I found the original typed pages of The Deed of Paksenarrion at its full (well, no, but cut only by me, not yet seen by an editor) length.  Each section in its own manila folder *with a label*…that level of organization did not last long once I started writing more AND had a kid to care for.