Last week's trip to Uvalde County in Texas has proved (after our house guest left) to be…a very strange trip indeed, in light of the school shooting in Uvalde.  We were in the northern bit of the county, where the Texas Hill Country begins, staying between Leakey (Real County) and Concan (Uvalde Co.) , and visiting friends with ranchland east of Concan.   I've been to the city of Uvalde before; one of our ranch hosts grew up on a ranch on the Nueces east of Uvalde and went to school in Uvalde…so it's very familiar territory, though not my own roots in the Border county of Hidalgo.
For tonight, leaving aside the insane and stupid remarks of Texas GOP politicians on the shooting (Cruz, Abbott, Paxton, etc.)  here are a few of the pictures I took of the places we saw: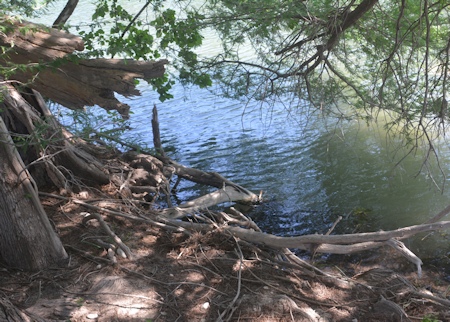 Frio River, cypress roots, a storm broken branch, overhanging limb.
Frio Riverside trail (cypresses along bank)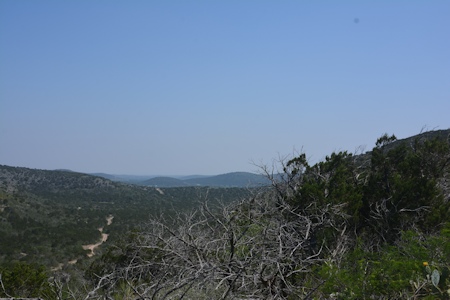 From mountain saddle looking SE.
Taken from road to saddle.  I thought at first these were Sacahuista (Nolina texana) or Beargrass, but the leaves were narrowly toothed, so probably a yucca I haven't tried to key out.  Not the one I knew in S. Texas.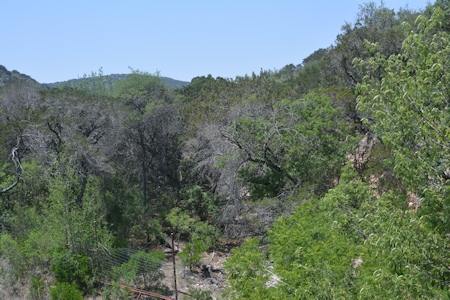 More vegetation down the mountain in protected drainages.  In this one there's Escarpment Cherry (right margin of image, Little Walnut or Texas Nopal, several others, and a steep bluff I'm looking down from.
  Spring-fed pool high on a different mountain, in a smooth-rock drainage.  The smooth rock showed multiple pools recently holding water but now dry, and here (not visible in this picture and I had the wrong shoes on to climb down) two thin trickles of water running out from under a rock shelf into the pool.  Since this region of Texas is in critical drought (10% of its average rainfall for the past 6 months, finding this water is essential for wildlife.  The new owners have removed all livestock and are in the process of trapping and removing non-native wildlife (axis deer in particular.)
Karen and I spent two full days on the ranch, and these pics don't begin to show everything we saw–which was less than 1/4 of the whole.   Came back Friday, Monday was a whirlwind because while I'd been gone the kitchen drains totally clogged up…and I already had an appointment with my former choir director on Monday…to which was added the plumbers, and then (from a text Sunday night) the farrier to trim both horses.  Tigger does not like unexpected people in the back yard making weird noises (the snake in the line)  and talking in unfamiliar voices, so he behaved badly with his trim.  I was supposed to be talking to the choir director about our piano, but had to be holding an uncooperative horse for far too long.  Anyway….that was Monday and today was Tuesday and taking houseguest back to the city.  We had lunch out, etc. and…it's been storming since about 11 and is now almost 1:30 am.  MUST go to bed.  Now.