On another site, on which I'd written a long comment about the statement "ignorance is bliss" someone complimented my writing (always pleasant to hear) and thought my "story-writing brain" was completely back in service.   Which–though much improved–it's not.  That's not a venue in which to explain how many different components and levels a fiction writing brain uses, but this is…for anyone interested (if not, there will be pictures later.  NOT of the story-writing brain, either.)   What I use for writing nonfiction is part of what a fiction writing brain needs–the equivalent in math of (from my era) 4th grade arithmetic, all very clear, definable, and useful.  Basic grammar, syntax, basic logic.  What a fiction writing brain needs beyond that is more like vector calculus, where forces (and fields of forces) intersect and the cool stuff is how you can figure out what's really going on in things like geological formations shifting, river and ocean currents interacting with winds and gravity and so on.
In writing short factual essays, or comments on others' essays, I make straightforward logical (usually) arguments based on the facts in question.  Nothing is creative in the way fiction is.  We're talking politics, which is real people in the real world, sometimes opinion, sometimes imputing motive, sharing facts and experiences individuals have, in fairly short and simple ways.  When  I don't agree, I try to provide reasons that make sense, and use a plain straightforward style, sometimes more formal and sometimes more conversational, that readers will readily understand.
Writing fiction uses the same basic writing elements, but instead of being about persons, places, and behaviors familiar to all in the conversation, it adds a number of elements, some more obvious than others.  It's not "real" in the sense of accurate portrayal of actual individuals (except in some historical fiction), events, places.  If it's contemporary fiction, it's closer to real, but still the characters, situations, and sometimes places are made up.  But many forms of fiction stray from accurate depiction of contemporary life in realistic locations.  These range from being set in former times–historical fiction, sometimes heavily researched and sometimes not–to imagined futures, imagined worlds other than this planet.  Every step away from nonfiction requires that writerbrain to do more work.  Even shoddily researched or thinly imagined, it's much more complex than writing about some item in the news, or an actual event at your workplace or a fishing trip you took.  The writer's brain must be able to hold two realities–both the world the writer lives in, and the one the writer writes about–at the same time, while ensuring the that imagined one contains all it needs to seem "real" to readers.  The longer the story the writer tells, the more challenges the writer's brain faces.
Characters: the writer must imagine one or more invented people (non-humans count!) and include enough complexity in them that readers find them interesting (or they quit reading.)  Numerous devices are offered novice writers to help them make up characters, but they're useful only when learning.  Like the character sheets for role-playing games, they're usually superficial (hair color, eye color, favorite food, height, weight, main fear, etc)  and don't offer the needed connection to a fiction book's real engine, motivation, without more thought and development by the writer.   And the physical aspects– hair color, eye color, beauty/plainness, etc– are not what interest most readers, especially adults.  They want to know what kind of person the character is.
Here comes the vector calculus, because real people have multiple (and often competing) motivations.  They have desires and aversions, some stronger than others.  Which ones will align to become the motivation for any particular action?  They have history (unless, as in Anthony Adverse by Hervey Allen, you start with the fetus and the rest of the book is the character's life…which still leaves you with the motivations of the evil count, his dead wife, the orphanage staff, a beautiful woman related to a former Byzantine emperor, etc, etc, as young Anthony is born, dumped in the orphanage, and eventually ends up across an ocean or so…)   For protagonists and backing characters, the writer's brain must hold not just a note-card or computer note of the stuff easy to forget, but a vivid image of what character a character has: whether it's an honorable person warped by threats against his/her children, an honorable person who hasn't yet been tested, a person warped from youth by some trauma…kind, cruel, casually unthinking, easily led or fiercely independent.  What kinds of mistakes come from what kind of background?  What kinds of trauma leave what kinds of scars?
Behind the motivational energy that pushes characters to act is the complex vector calculus of their histories, their entire package of traits, skills, education, ignorance, inabilities, every element pushing and pulling…and the writer's brain has to hold that, *feel* that.   And feel it for all the major characters and those with whom they interact–because what ultimately happens is the result of everyone's motivations and actions.  If the imagination is strong enough, the writer's understanding of the characters accurate enough, even the writer cannot force them to do what they would not do.   And the writer brain must always hold that possibility and stop to ask "What WOULD this person do?"  (I'd planned for Esmay Suiza and Brun Meager to become friends right away…but no.  Neither one was ready to see the other's reality. )  And then the writer's brain has to figure out how to show enough of the complexity for readers to grasp the logic of the characters and their actions–what can be shown in action, and what in internal dialogue, and what in conversation (argument, fight, calm conversation) with other characters?   But not too much, in the case of my books, because too much psychological evidence is just as distorting as too much violence, sex, atmospheric description, cultural description.
As the actions develop during the course of the book, the writer's brain must keep track of the flow…the pull of the various vectors, to be aware if it falters and leaves part of the book slack in the water…a ship becalmed.  Stories keep going.  They jump from character to character, place to place, subplot to subplot, but they must have what horse people call impulsion and others may call a current or a pull.  And if the story does have the larger transitions–changes in point of view character, large changes in location or time–these transitions must be made clear so readers are aware of the current that connects them to the rest.  In an article on Philip Roth and a new biography of him in last week's The New Yorker, David Remnick said "Writing a long novel, carrying in your mind an extended imaginative text, is a feat of memory and concentration for any creative soul.  It is especially taxing as one ages."  I agree, but it's also the kind of intellectual work–varied and requiring doing new things–that can keep a brain working better if not pushed for speed or a type of work that the writer doesn't want to do.  Energy does decline, but the desire to write need not.   And experience–both direct and secondhand from reading, internet research–all sources–offers additional understanding of people and new knowledge to play with in constructing the work.    (You can probably guess I was never fond of Roth's work; I had Portnoy's Complaint shoved at me in college and never got past the first chapter.  My loss, no doubt, but I found plenty of other books to admire and enjoy.)   The concussion did my writer-brain far more damage than age alone.  Roth quit writing in 2009 when he was 76.   I'm 76, and if I can finish one more publishable book, a book I think my readers will enjoy, I have more I'd like to do.  Stories and books both.
And now for the decorations: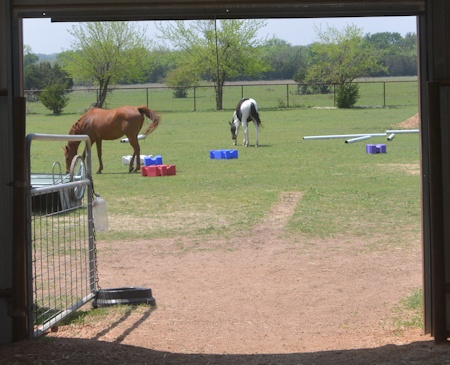 A view out the west door of the barn.
Texas Buckeye
Alfilaria (geranium family: winter annual)
  Missouri Evening Primrose, spring annual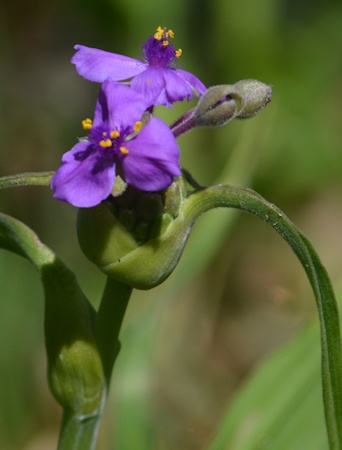 Tradescantia, Spiderwort