Last spring we discovered a new-to-us non-native flower growing on the place, several patches of Scarlet Pimpernel (which in Texas look orange, not scarlet, but do have striking magenta down near the ovary.   It looked like this:
Today, R- found a similar looking flower on a different-looking plant, and so far we're uncertain of the correct ID, because although it's superficially similar in flower structure, it's not exactly the same, and the plant looks completely different, with deeply cut leaves rather than entire leaves, as seen on the Scarlet Pimpernel.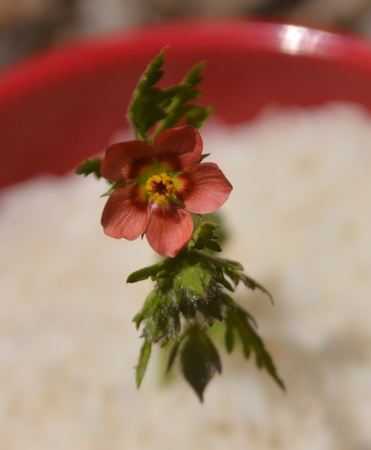 The Scarlet Pimpernel grew on soil near the fence of the construction yard, where the washwater from their power-washing machinery spreads.  Most of the plants have some bare soil around them.  The new, deeper red, flower grows in more natural soil, farther away from the construction company fence, among other native forbs and grasses.  The new flowers, photographed with R-'s small camera in situ, look much paler, but the color of the single one (my camera) is what the eye sees.
From my first field guide search, and several online searches, the new one is in the Geranium family, and if the flower were larger (an inch across instead of more like 1 cm) I'd bet on "Bloody Geranium," an alien planted in gardens, but it isn't that big.   The finely cut leaves and the greater number of stamens fit the Geranium family.   More pictures tomorrow, weather permitting.  (The single flower, by the way, is propped up in a cup of rice to hold it motionless while I took several shots.