I didn't feel great yesterday evening, so skipped the choir Zoom meeting and went to bed.  And this morning….a migraine.  Overnight clouds had moved in and a wind from the south.  After  a couple of hours trying to argue myself into wellness (waste of time and I know it, but often can't act on it with a migraine), I gave in, took the meds, went back to bed, and covered my eyes with black cloth.  Two hours later I was better, and a three hours after that I was able to get on Rags and ride a short calm ride in the north horse lot.
I worked on getting him to walk a straight line,  make a small circle both ways, leg yield both ways (to the right, pretty easy; to the left, not so much),  turn on the haunches (unsuccessful) and forehand (successful) both ways,  "whoa" without hesitation,  stand still after stopping, and then start promptly when cued,  simple stuff like that.   Pleased with myself for riding on a migraine day (trusting that the migraine really was gone) and happy with Rags' response to the 4th day in a row under saddle.   He would rather not, but he is easily food motivated and the carrot bits he gets have overcome his reluctance.
The odd: yesterday while walking the fence, R- saw a Northern Caracara (not that unusual anymore) and it vocalized.  They croak.   They're a very handsome bird, impressive size and interesting coloring.  I've seen them but never heard one; they're usually silent.  The odd today was not seeing *anything*  of note (animal, bird, new plant) while walking the fence, he said.
His younger brother and wife both had Covid in late June/early July.  Melissa died of it.   They lived in the Houston area.  Now his older brother and wife have Covid.  They live in Kansas.   They attend a church that doesn't do virtual services.  I don't know if they've been good about wearing masks or not.  I know R- talked to his older brother about Covid when the younger one was sick, but apparently it didn't stick.  Biting my tongue, here.   Both brothers have engineering degrees from Texas A&M.
It's sad when people who have the education to know that science matters…that experts may indeed be expert in something they aren't…make potentially deadly decisions on the basis of politically motivated lies.  It's sad and infuriating when the leadership in groups choose to ignore the advice NOT to meet in person and ensure that their own members will get sick.
I had planned to do more editing on NewBook today, but the migraine ate my morning and the horses ate my afternoon.  Tomorrow, while R- is grocery shopping, then.   I've made some (still mental) changes in Chapter 2 that will fix the problems in C-3 and also some others down the line (where C-2-3 are recent history.)
Giving Rags a scritch on the withers for being good.  11/18/2020
Level feet!  (Mine)
Rags startled, and I stiffened into "defensive seat".  He had spotted a fallen deer feeder.  Notice his head is higher than his usual "poll at or below withers."  It's clear horse and I are not in accord, which means the rider screwed up, this time over-reacting to a minor startle.  I've been dumped when what I thought was going to be a minor startle turned into whirling, rearing, bolting (on a much larger horse) and I re-broke a rib I'd broken less than a decade before…and nearly dumped multiple times by horses with a really big "shy"…but that's just an excuse.
Rides will alternate or at least vary between "schooling" rides (like today's, emphasis on training) and "riding out" in the open, where exercise and experience are the goals.
Today, 11/19/2020.  Walking relaxed on a very light contact, Rags's neck is carried (not hanging, like a vulture's neck) and slightly flexed at the poll, giving a slight curve.  Progress!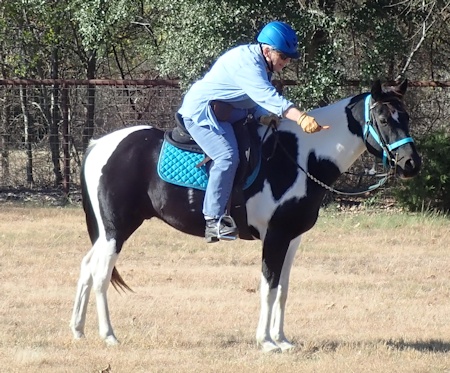 Offering a carrot for some good work. He's just spotted it.
"Yes, thank you, I would like a carrot!"