Today I rode Rags again, since his hooves are now trimmed and in good shape.   Rags was not thrilled by the honor (!) and Tigger thought he should supervise the whole thing and had to be gently chased away from time to time.   Here's Tigger's expression while I'm haltering Rags.  Rags has the posture I'd like him to have while I'm riding, with his neck showing a little curve and rising from his withers, but he's not yet strong enough to do that with weight on his back.  He can flex at the poll with his neck coming out level.
I'm hoping my friend/trainer/coach Laci can come over more, to correct my seat while I'm riding.  A combination of old injuries makes it hard to "feel" when I'm straight and balanced until I'm riding a lot and have relearned the position.   Our riding has included riding over ground poles and raised poles, doing standard schooling exercises, and riding out on the land.   His chest is very narrow–so later work to open up his shoulders is coming,  but first just a lot of "wet saddle blankets….and rides out to gain experience.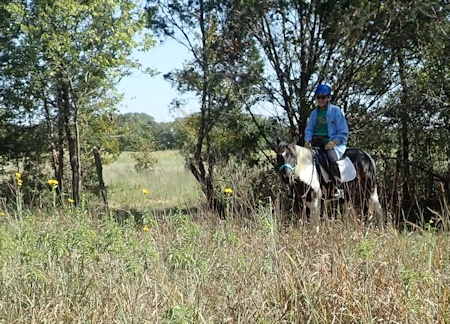 First two photos taken 11/16; last photo taken in early October.  Rags enjoyed being out on the land.