NewBook is now over 100 pages.  It was chugging along  fairly well, but then…it was delayed when my horse Tigger, who is a 14.3 hand Arabian with minimal jumping experience, decided to run flat out toward a five foot three inch pipe framed fence and jump it.  Both he and the fence came off worse for the experience.  He broke the top pipe at a weld, was thrown backwards (landed on his back) and then at first could not get up, and when he got up was lame in his right hind…but then took off again until finally stopped in the next field.  He had a through and through gash of his upper lip, gashes in his neck, chest, upper neck, left hind leg near the stifle, both knees…he was a mess, dripping out of nose and mouth, standing shaking on three legs.  Not to worry…he's now home from two weeks in the horse hospital, and nothing broke.  Not his nasal bone, his jaw, his neck, his back, or a leg.  His right eye had damage to the cornea, but it healed up with treatment.  Everyone who saw him that first day and night was amazed.  He was X-rayed in many places.  He's still lame in the right hind, but moves better every day so I have hopes of a complete recovery when all the soft tissue damage heals.  I can't say enough good about Brazos Valley Equine Hospital at Salado, whose vets and staff were incredibly supportive of me and Tigger both.
But that slowed down the writing until he got home, because I was on the road to/from the vet's a lot, or doing other related-to-Tigger things.  He's getting six small meals a day and free-choice hay to encourage weight gain without stomach problems, since he's also locked up in the barn and one small exercise lot so he can't go fast, and he lost quite a lot of weight the first two weeks.  Here's how he looked this past Saturday when he'd been home three days.  The injured hind leg is nearest the camera but he's putting weight on it.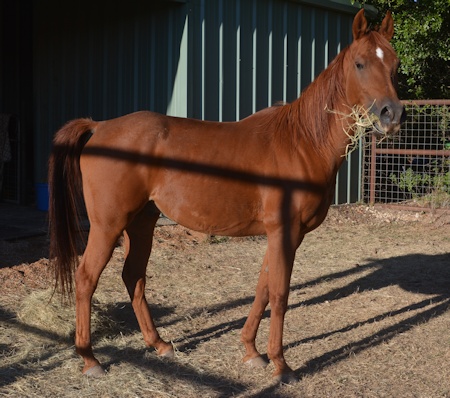 Meanwhile, the book…as I said, over 100 pages.  It got a new opening scene this morning because I wanted to put those characters onstage earlier in the story.  Here's the snippet:
Location: Vatta house in Port Major
Secrets.  The house was full of secrets; the entire family was full of secrets.  The twins knew most of the secrets, they were sure, but knowing a secret did not necessarily make it not-a-secret where the adults were concerned.
……………………………………………………………………………………………..
These are Jo's twins, Justin and Shar, no longer little children but on the brim of adolescence.   Very bright, very curious, but they've been overprotected by Stella's mother Helen, so they don't have the kind of background both Ky and Stella got from their families.  They are tired of being overlooked, expected to sit and wait for life to come to them.   They're fun to write.   Also early in the book, Ky as she retires as Commandant (finally, she thinks) and Rafe, about to start life again as civilians, Stella and her mother, who wants Stella to take the twins (Stella is concealing from her mother her new situation, which is having Benny Quindlan in the house with her) and Helen's birth family the Stamarkos bunch, who are…well, you'll find out someday, if this book holds together.   And horses have appeared in this book.  they may or may not stay, but there they are, so far background to the twins.   There's one set of villains.  There's a reappearance of some people you'll know from the previous Vatta's Peace books, and the disappearance of a few I wish were still around but…they aren't.  The world changes, the actors leave the stage to argue with one another in the celestial green room.  The *real* plot is just beginning to bulge the top of the pool of possibilities, but I can't see any of it yet.
So in time it will turn into something, though I'm not sure what.  Something Vatta-ish.