Amazon chose INTO THE FIRE as one of the best SFF book releases for February.  Hurray!!
I know I've been absent for far too long in the run-up to a book release, and though it was all Stuff Happened, and then More Stuff Happened, and then Stuff Happened Right on Top of Stuff Already Happening….it did leave all of you hanging around the old clubhouse…or just looking at the unlighted windows…too long.
A brief list of the Stuff:  continued requests for another round of questions and problems to be fixed in the book (you'll be glad these occurred!!)  that lasted through November.  Then I got sick, about the time I had to prod husband to go see the doctor again THIS WEEK because some bad things were happening with him.  Our son graduated from community college mid-December, and I literally crawled out of bed to make it down to the city to see his graduation (YAY!)  and then fell back into bed, feverish again, and was able to sing at only one service on Christmas Eve.  (The day before that, my horse Mac died….and there I was with a dead horse in the horse lot on the holiday weekend.  A friend trailered over his tractor, with a front-end loader, and removed the body to their ranch.   Then returned on Christmas Eve to pick up his tractor.  Somewhere in there (my memory is tangled) husband seen his doctor, and gotten an appointment with a surgeon,  been sent for a scan, and had surgery on, um, January 3.   Meanwhile, I'd been employing idle hours (! not many of those!) since about October looking at horse ads because we knew Mac was old and might not last another year, though in the week before he died he had looked spryer than for awhile.   Now I looked harder, figuring it would take several months to find one of the type I wanted) and while husband was in bed after surgery,  I spotted a nearby ad for a horse the right age, training,  and size…only 20 miles away.
This led to a frantic week of discovering that yes, the mare was a good match…getting her to a vet for the pre-purchase exam, and then having her delivered…and having to rush off to Austin, in the face of oncoming severe (for us) weather, to get her a blanket and some other stuff that her seller had said he'd bring, only he didn't.  And due to the pre-January 1 and immediate post-January 1 stuff, I didn't have necessary legally required reports written yet…due on January 31.  And the mare did not fit any of my saddles, which (not having been used for over 10 years) were not (as they should've been) perfectly clean and ready to be unwrapped and used.  But they didn't fit anyway, so…
However, I have a rideable horse, when I finally get a saddle, which I would have by now (maybe) if the saddle fitter hadn't had to change our appointment to the end of next week.  In younger, fitter, and slimmer days I'd have been on her bareback already.  Now…it hasn't happened yet.
This image makes her too "red"–she's a smoky buckskin, sort of peanut-butter colored in shade or on a cloudy day, and with very gold highlights in full sun.  This was the cold, cloudy, windy day she arrived.  Like most horses in a new field, she ran around a lot.  We've been doing a lot of ground work, since I wasn't confident enough to get on her bareback from the get-go (here's another picture to suggest why not…)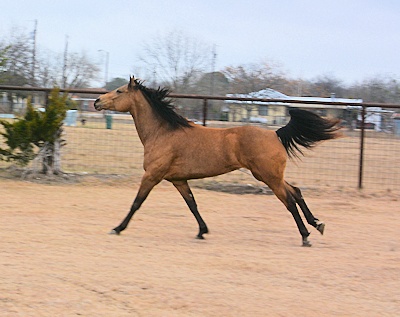 When younger, I could ride a gallop bareback (fun!) but at 70+ just not ready for that, after 10 years + without any riding.  But…a saddle that fits her WILL be acquired, and I WILL ride her and when I'm fitter, I'll ride her bareback as well.   So there's been work on leading politely (she wasn't bad, but she sometimes thinks she should be leading me),  taking the bit without a fuss, not freaking out at everything resembling a whip. etc.  She was used as a general riding horse and roping horse by her former owner,  who got too big for her (way taller than me and somewhat heavier) and has a lot of experience in both ranch work and rodeoing, riding alongside traffic, riding in cities (in and around the big statewide livestock shows and rodeos), parades, etc.  She's an interesting mix of Quarter Horse and Arabian, both in conformation and disposition.   No papers, which doesn't bother me.  Eight years old, 14.3 hands high, the kind of dings in the pre-purchase exam you expect to find in an 8 year old ranch/roping horse but nothing disqualifying.
So that's what's been taking up my time.  With two reports (the ones due 1/31) turned Wednesday, and the one due 2/10 almost finished, I'm beginning to get glimmers of what might come after INTO THE FIRE.  Nothing strong enough to talk about yet.  I do want to go back and finish the bits started about the great reunion of characters on Waystation Huygens…