Next INTO THE FIRE duty will be copy edits–they should arrive here at the end of September and I need to get them back to the publisher before October 13.  Thank goodness for overnight package service!!!  Between now and then I will be working on the introductions for the new edition of the original three Paks books (one done, one partially done.  The bike accident had its effect.)  Also starting work again on the next short fiction anthology.
There are many other things going on of course.  The house next door that we bought to renovate as a rental is making good progress.  The outside is done (new roof, repairs of overhang and gable ends, repair of sun porch that amounted to rebuilding it at least halfway up, repair of storage unit, repainting everything out there.  Looks pretty spiffy now.   Inside has the major renovations done:  new counters in the kitchen, repairs to cabinets, new kitchen sink (old "harvest gold" one was chipped; new one is stainless steel),  holes in ceilings repaired, holes in walls repaired, the worst areas where the leaks were reframed, old paneling (not great paneling, now stained) taken off and new drywall put up in one room,  new shower/bath inserts and new toilets are coming, and completely new flooring throughout.  There are now smoke detectors where there should be, and proper external doors with deadbolts on two doors that didn't have that (the carport door was just a screen door; the door into the sun porch was an interior door, hollow core, with one break that went into the hollow.  There's more plumbing and more electrical to be done, plus it needs appliances and some blinds on the windows.
Here are some pictures of before and after of specific things that were bad and now aren't.
Small front bedroom had a hole in the ceiling where water had poured in and where animals had also come in (rats' nest in closet as well as mold on walls.)  That closet was very small,  small, with a narrow door.  Now combined with small closet in foyer, reframed with wider opening and bi-fold doors, ceiling and walls had bad wood replaced with new, new drywall, then painted, new vinyl plank flooring.
  The worst visible damage in the place before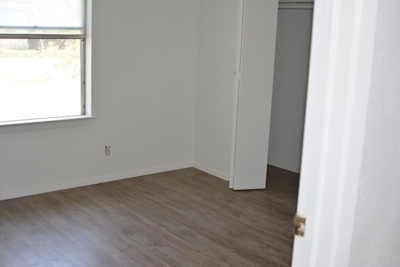 After–dry, solid, clean, more storage
Kitchen had old worn counters, old harvest-gold sink with chips in the enamel, cracked/broken vinyl tiles on the floor, kitchen fire damage to stove and cabinet on one side, old wood cabinets with dirty stained wood, rotted out under sink, stained and peeling wallpaper on the drop-ceiling sections above cabinets, old and part-rusted dishwasher.   Now has refinished & repaired cabinets, new cabinet hardware, new counters, new sink, counter material extended up wall behind sink and stove opening, all cabinets walls, and ceilings painted, new vinyl tile flooring.  Breakfast nook (behind camera) painted in contrasting color to match front room, foyer, and large room (to the right in this picture.
Before: view to front room…"gold" tile floor, sink, stove exhaust, dishwasher, fire damage, wallpaper overhead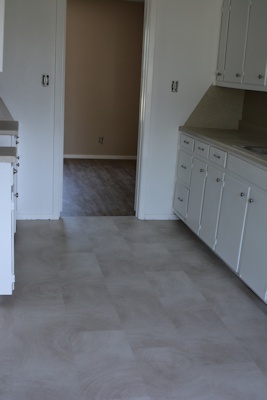 After: white cabinets, steel sink, nickel hardware, new countertop/backsplash, new vinyl tile floor (same new flooring in the bathrooms.)  Appliances not in yet.
Front room–off kitchen, had been used as a dining room at one time.  The 1970s shag carpet was stained, torn, and damaged by animals in the house. It needed holes in the wall and ceiling patched, a light fixture moved, new flooring, and a paint job.  You can see in the first picture the water and animal damage in the foyer, as well.  All that was of course taken care of–the very bad closet backed up on this area and was taken down to the concrete slab.
Minus the old filthy carpet, debris, and low-hanging chandelier, and painted a light taupe with white trim, this room could have multiple uses depending on the needs of those in the house.  The foyer, this room, the breakfast nook off the kitchen, and the large room are all done in the same color; everything else is white.
And that's probably more than you wanted to know about this particular project.  We have not done any of the work ourselves; some of that sort of thing we'd done 30-40 years ago in other places, but at this point neither of us is good on ladders, and we are slow, half-decent carpenters…and other people need jobs.  My job has been to show up every day to see if any questions need to be answered and to cheer on the people doing the hard work…and then get out of their way and let them do it.   I've been lucky in having excellent contractors (and in having had an architect/engineer mother so that I knew how to appreciate the work.)