Now over 39,000 words.  Wow, this book wants to be written, so far.  I need eyes that don't tire from screen time and fingers (right hand in particular) that aren't arthritic.    But it's wonderful to be on the road with a book that wants to GO down that road.   That has dragged me away from the horses, reading, talking on the phone, let alone dishwashing, toilet cleaning, laundry folding and suchlike (it's really EASY to drag me away from those; it requires minimal effort.  But dragging me away from talking with friends I love and don't get to see that often anymore?  That takes a book with attitude and what horse people call "impulsion."  Can I hit 40 thousand tonight?  Maybe not.  But tomorrow, in spite of needing to get to the feed store for more hay…yeah, probably.    And that's the point at which it can't be anything BUT a book, because novella-length stops at 40 thousand.  And there's no way to trim, shape, or get this story into a size 40k word dress.
Unlike the last attempt at Vatta08, this book doesn't ask me "So…what should happen now?  This?  Or maybe that?"   It's telling me…"Cam leaves for Horngard.  We can skip how the arrangements were negotiated for now.  He's got [stuff you shouldn't know yet] with him and the first day is through large farm estates and then…and then…and then….there's this trail marker…LOOK at it!  And another one…pay attention!…"  There's stuff that can go in optionally to enrich the characters & setting, and stuff that  needs to be there, and when things "happen" they suddenly snap into place like puzzle pieces.  There's always adjustments available, as the whole thing shapes itself…some incidents can move forward or back for best effect…but it's just a blast to write.
This morning I woke up early, with where to go up front in my brain.  My friend & trainer Laci was coming to help me with a couple of horse things…and she got delayed some, so I after feeding and watering the beasts, I sat back down and wrote on…and on.  At least 1000 words before she got here
The day then meant the horse stuff got done (lessons in longe work, proving that both horse did know how but were not thrilled at having to do it, and the trimming of manes and tails for a) helping them stay cool, and b) keeping their long, almost ground length, tails from picking up thorny or otherwise sticky bits of weed stems off the ground while rolling.)   And writing work got done, and I got a 2 hour nap (which I needed after being up til midnight last night) AND got them fed,hayed, watered, and photographed, as you see below.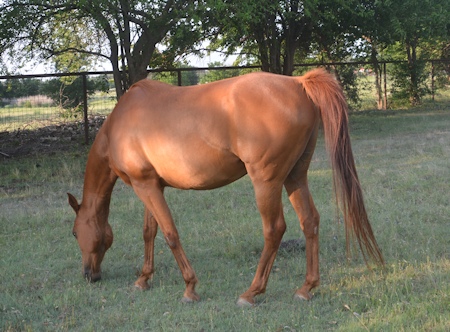 Long-tailed Tigger in May.  I like long tails on horses but not the way long tails pick up sticks (thorny sticks in particular) and weed stems with stickers, and clover burs.  Then they form knots around those things.  Still a little grass, but very short.
Trimmed Tigger on July 4.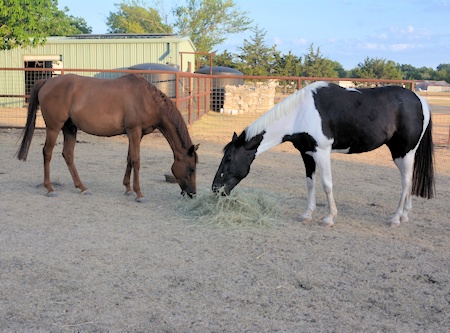 Tig and Rags, both trimmed up today.
Rags long-tailed in May
Rags trimmed up July 4