R- brought back a sedge that neither of us had seen before.   We don't have a field guide to sedges (if one exists) but we do have books that include *some* sedges.  Correll & Johnston, the huge (old now) Manual of the Vascular Plants of Texas should have all of the Texas sedges, but a) sedges aren't easy to ID for the amateur and b) Correll & Johnston made no effort to ease the amateur's way.  Either you suck it up and learn all the terminology or…you don't.   No pictures, no hints.  And there are LOTS of sedges.    And c) Carex (the biggest of the sedge genera) is the largest vascular plant genus in North America.  There are a LOT of sedges and a LOT of Carex species.
There is a newish (new because between 2006 and now it's up to 21 editions of itself) visual key for Carex,  which I just discovered via another website, and have spent a happy hour and a half (so far)  playing with.  Did not get our new find IDed, but did have a blast looking at one of the smartest trickiest photo presentations ever.  An entire screen of tiled tiny-tiny images…and a scroll bar to enlarge any of them as large as you want.  If you want to take a look, the main site isn't…um…completely intuitive, but when you get to the images themselves…wowza!  It includes exquisite botanical illustrations as well as good photos, from the habitats where the illustrated species are found to the details of a given sedge.   http://www.herbarium2.lsu.edu/aba/#%7B%22filters%22%3A%7B%7D%2C%22search%22%3Anull%2C%22sortBy%22%3A%22Species%22%2C%22view%22%3A%22grid%22%7D  is a place to start.  There's a horizontal scaling bar in the upper right part of the image, above the tiled field of thumbnails.  To the right, the images get larger; they start at the far left.   On the left a vertical sidebar allows you to pick a state in the US.
And now for my images of the one R- found, brought back, and stuck in the lily pond so it might survive another day or so for more measurement and photography, though I'm hoping to walk down to the "swamp overflow" in the south creek woods and take some in situ.   I wish we had the rainfall to sustain a little real wetland.   We no longer have the energy to build another rain barn to supply one.  This plant got "floppy" in the leaves while being carried home on a hot afternoon; the leaves are 1 cm wide, and the inflorescence starts about 50 cm. from the base, which here is submerged about 7 inches in the lily pond.  I'm not even sure it's a Carex sedge (there are other genera) but that's the most numerous…and there's always more to learn.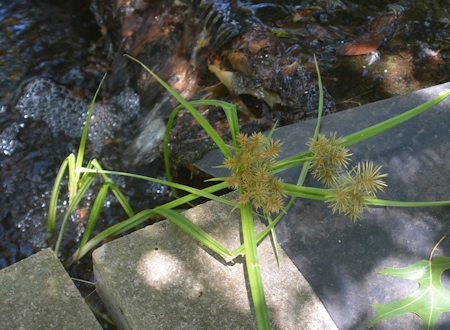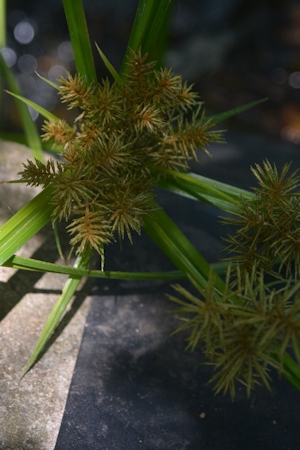 I am now crazy about this sedge and want it to live here always…which in the alternating drought-flood-heat-freeze climate we have may not work, but I will try to find a way.  It's stunningly beautiful.