Sunday, January 10, we had 3-4 inches of snow.  At times it was fairly heavy.  Ragtime and Tigger decided that snow wasn't worth standing in the barn for, though they had come in for breakfast when it was still a mix of cold rain and sleet. But snow?  The boys thought that being snow ponies instead of show ponies was a great idea.  I didn't get the really good pictures because I just stood there watching before going to get the camera.  This pic is after they'd trotted and loped around looking SO cute and decorative and were cooling off (!!).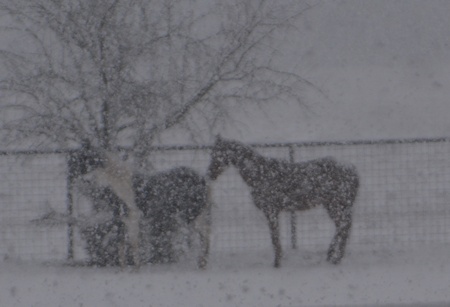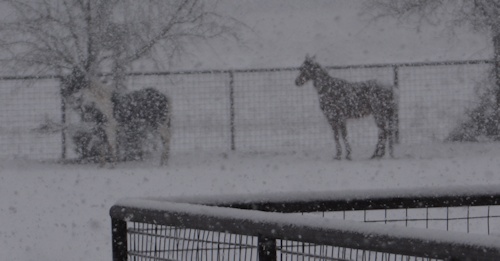 Snow elsewhere, later, at just about max depth: top pic, front, lower pic, back, beginning to melt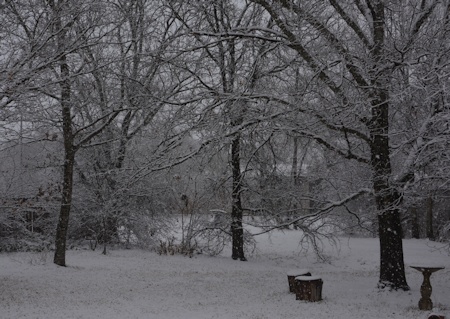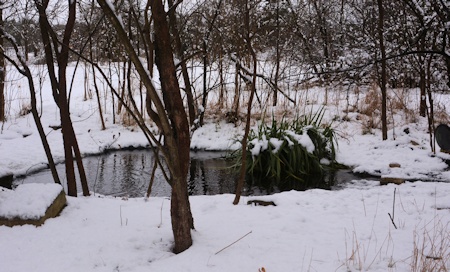 Last pic was taken later, when I could stand on the back step scraper-mat in sandals (cold but OK) after pushing the snow off the mat with a broom.   My  outside mud/snow boots were in the utility room, which opens to the front of the house, and I couldn't wear them inside w/o really dirtying things.  Horses and top pic were taken from the front porch.  Today it's sunny and not exactly warm but not exactly cold either.  Ears & hands get chilly in the breeze but otherwise OK.