Rags has twice appeared where he hadn't been seen, and has several times been missed while standing in the shade in summer.  You would not think a nice round (small but round) splashy-patterned black and white horse could disappear in broad, or even lean daylight, but…he does.  Tonight at feeding time, I looked (thought I looked), saw Tigger down the pasture, saw nothing in the south barn lot or…when I walked into the barn…in the barn, and then walked over and shut the west gate before Tigger got in.  Aha.  Ready to start the feeding process.  And then heard the hoofbeats *behind* me.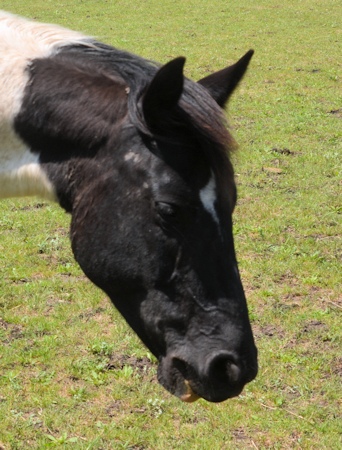 That was Ragtime back in April; the attitude is still the same, though his mane and tail have grown out.   "I'm not invisible," he says.  "I wasn't hiding, but I was just…um…waiting until I had your full attention."
"You're a sneak," I said.   "You hurt my feelings," he said.  "I'm just HUNGRY.  See how LEAN I am?  Hardly a single ounce of meat on my bones…"    "You're plump," I said, checking as I do at least twice a week.  Firm muscle and an acceptable but definite amount of fat."  "It's my winter coat," he said.  "I'm so hungry I could eat your shirt."    "NO TEETH ON HUMANS."   "I didn't MEAN anything…"
He has wonderfully soft, furry ears.  Plushy.  He doesn't mind having his ears handled, and I like feeling the soft plush.  His winter coat this year (unlike when I bought him last February) is plushy, soft, and healthy-feeling all over, unless he's just rolled in mud.   Due to his being between me and the gate out to where Tigger waited (impatiently), he got fed first.
Tigger's response to his supper was a sorrowful look, and a resigned sound that clearly meant "You put that horrible stuff in my feed again and I TOLD you…"   "If your plate's clean when I come back then you can come into the barn," I said.  "The horrible stuff is good for you."  (Remembering clearly the time when I was about three and threw a fit in a hotel dining room after being told to eat the peas on the plate, vegetables were good for me.  I hated English peas.  I didn't WANT the English peas.  I had finished the chicken and mashed potatoes and wanted dessert….which I said, loudly and firmly.  What I got was a far less pleasant experience.  Hauled outside and swatted and no dessert.)  I don't, of course, spank Tigger for not eating his supplement.  If he absolutely would not eat it, I'd give it to my trainer to give to another horse (no sense wasting it) and try something else.  But he's eaten it several times now, each time with slightly less resistance, so I'm expecting that within a week he'll just eat it from the moment I put it down for him.   I will need more molasses for awhile.  Then I hope to decrease the molasses bit by bit, because I'd rather save the sweets for training treats.  But we'll see.