After a cold night, what a horse wants is a good breakfast and then a sunny day without too much wind…the two of them stood side by side, broadside to the early sun to catch the first warmth of its rays.  Then they burned through a good amount of hay.   And then, full and at peace with the world while R- was picking up manure in their lot, they did this:
Tigger, muzzle on ground, snoozing, taken with 200 mm zoom
But then noticed R- across the field
And spotted me as I moved near the carport.  R- said Rags lay down first, even stretched out, before Tigger decided it was OK to lie down.  But he's the alpha and therefore the one on guard duty.  "Are you bringing more food?"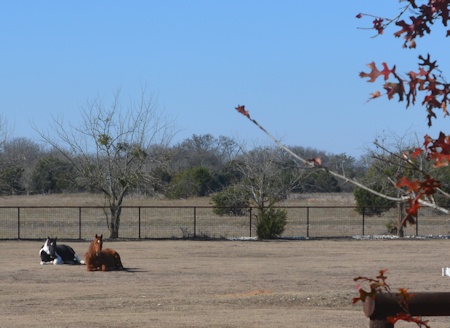 I tried to go back into the house, through, out the front door, and then–using the carport and hay barn for cover, get to a better angle to show both horses without being noticed.  You can see how well that didn't work.  Tigger was staring at me when I got to where I could see him again.  And Rags took his cue from Tigger.  This was taken with a normal lens, then cropped…I wanted the two white stars to show.
This is also taken with the 200 mm zoom extended.  These days I need something to lean against to keep my hands steady.
Here Rags is already lowering his head to snooze some more, but Tigger's keeping an eye on R- and out beyond the fence.
The next time I went out, an hour or so later, they were up again.
Tigger's definitely buddy-bound (he gets upset when I ride Rags out of sight) and Rags is a little buddy-bound (will move away from Tigger, but reacts to Tigger calling for him.)