When a science fiction writer makes soup and then wants to take a picture of it…my, what strange things get into into the picture.  Is that cute little alien *pregnant*??? What's with the one straddling a big of carrot and holding (?) a black bean?   (This being a winter soup, it started with 4 cups of mixed dried beans soaking overnight, then going into a 12 quart pot with a ham bone, some additional smoked ham hocks, onion, garlic, celery, carrot, diced tomatoes and green chilis, green beans, corn, mushrooms, spinach, and will acquire some more stuff tomorrow.  We had it (the soup, not the aliens, unless we did eat them, whatever they are) for supper.  I suspect both little aliens just want to be in the book.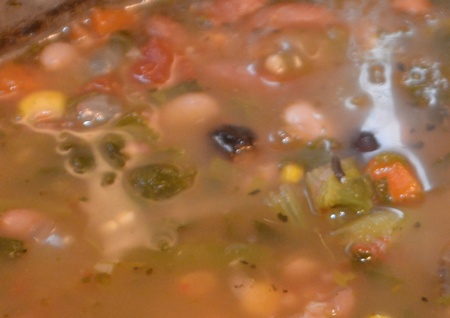 But wait…is that another alien just above the pinkish bean and black bean? One blue eye, one yellow, a sort of topknot?
A divided grin?  And then those little pairs of eyes looking out from under the celery, and the ones below the next celery….?