All this week the repair & painting crew has been working on the outside of our house, including the carport.  It has been noisy and distracting (as construction and lots of strangers about always is) but the effect has been excellent.   The gaping hole were the beehive was removed is now closed, secured, and painted.  The wrought-iron supports for the front porch, showing age and rust, were wire-brushed down to the clean metal and repainted with the proper paint.  You can see the acorns' markings among the oak leaves.  Looks totally new.  The rotted posts on the enclosed end of the carport: replaced.  Damaged Masonite sheathing: replaced.  All painted and looks new.   All the eaves, fascia, etc. repaired as needed and painted.  Shutters and windowframes painted, glazing repaired with fresh putty then painted.  Screens powerwashed and painted.
When the sawing and banging and scraping were going on, I couldn't get much done (folding laundry, yes, but writing or working on the computer, no.)  Today was all painting, which is quieter, so I got some work done copying images from my LiveJournal to my own computer, in the same taxonomic organization.  Also worked on an essay, a little on the book (harder when I hear voices talking outside–in very different accents & rhythms than my characters) and taxes.  I should have taken pictures before and after, but I didn't fully document how bad it was.  Here's the part of the carport they did the most work on.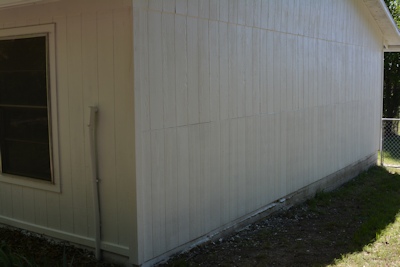 And the front of the house
I should have taken a close-up of the wright-iron oak leaves and acorns, but I spent time on the blue water iris in the backyard artificial stream, instead.