There is no real joy in knowing there's a scorpion in the room at 2:45 am. You can hear it scuffling through papers.  You know it's a  scorp, because it doesn't sound like a cockroach (another unwanted night visitor) but when it's not in the papers, you have no idea where it is, or how many there are.  I have a UV flashlight as well as LED headlamps, but when you first wake up, wakened by the faint noise because you're set to alarm on it, that doesn't help.  You locate the sound…it's…there.  The UV flashlight isn't; it's on the other side of the bed, in the basket of lights.   All you can find by feel is the headlamp, so you take that, and sure enough, a large scorp is making progress from A to B, B being something you aren't going to turn over in the middle of the night in case there are multiple scorps in it.  Cautiously, you light up your heavy slippers, the ones safest for scorp stomping, barring rubber boots.   You're just awakened and alarmed, and so you need the bathroom.  There's a light in there.  When you're done you go back to bed and swing your feet up, with the slippers (now you know there are no scorps inside still on your feet.  It will come out again.  They always do.  Now you find the UV flashlight and tuck it under the pillow.  And wait.  And wait.  And then, the stealthy sound of scorp exiting the hiding pile.  You turn on the UV light, scanning the floor…and there it is, a pale green shape on a pale gray carpet, moving…and then it stops.  You slide to the edge of the bed, keeping the light on the scorpion.  It moves an inch.  One slippered foot quietly on the floor.  It's heading for the bed.  Two slippered feet quietly on the floor–easy when it's moving this slowly.  Stand up, then crouch a little; the scorp stops again.  Sure of the target and its position….STOMP, hard.  They're harder to kill on carpet.  Slide the foot firmly.  And then look.  The "tail" twitches once, twice.  Then it's uncoiled and no other part moves.  Cautiously, to the bathroom, to take the BBQ tongs off the towel rail beside the toilet.  Back to the dead scorp.  Picking it up carefully with the tongs and holding it away from your bare legs, you carry it to the toilet, drop it in, and flush.  Another one gone.
Calories in the day are fewer than they used to be, and I'm losing at a respectable rate.  Will be for some time.   What's changed is age, which–according to medical sources–demands more of some micronutrients when you're over 70.  Calcium and protein needs both go up quite a lot and place constraints on the diet that may be hard to fit into the desired caloric intake.   When talking about diets for the elderly, much of the discussion is on getting enough, and ignores caloric restriction because of course *their* patients are skinny old folks.  I am not.  Old but not skinny.  So I'm having to spend time calculating and measuring and muttering, that kind of finicky thing drives me bonkers.   Also if I really can't get enough protein and calcium on 1000c/day, I'll raise it a little.  Keeping bones and muscles happy matters more than how fast I lose.  However…thanks to the water loss of the first week, I've dropped 10 pounds in 28 days.   (The other weeks were 1.6,1.6, and 1.4.)   Exercise is also happening, mostly for muscle retention and building strength this time, since I can't ride the bike anymore. )   Many more to go, but I fit into slightly smaller clothes already.
R- saw wild turkeys yesterday and today both–we used to see them, some 20 years ago when we bought the 80 acres, smallish flocks in the fall and winter harvesting acorns from the live oaks.  But mostly now we don't, because the acreage west of us is being cleared and built in, and dogs roam there a lot.  However, he got a picture of a hen today; yesterday he saw the hen and a young poult about half her size.
   Turkey hen looks very plain at this season, soft gray-browns.  Can wild turkeys fly?  Yes, they can.  They can fly up steeply as that ladder behind her, or even steeper, to roost in a tree overnight.  They do make a lot of racket.  So far as we know, right now she and her poult are the only ones on the place, but in the interest of attracting more, we aren't seriously trying to find them.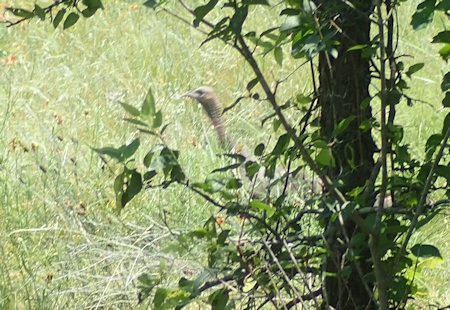 Here she is farther west; she wants to get into the line of brush, but R-'s there so she's moving quietly and steadily through the grass.  Because I looked at this on the whole screen, I was able to see more of her, and her tail extends beyond the little tree.  RSM took both these shots.  He's right up against the south fenceline.   I'd like to convince her to hang around, but definitely don't want to habituate her to staying close to the fenceline as hunters will spot her.   I hope she's got others in the flock.