Contact Elizabeth Moon:
Email
Twitter
Contact agent for all queries and proposals concerning rights:
JABberwocky Literary Agency
PO Box 4558
Sunnyside, NY 11104-0558
phone: 718-392-5985
Biography:
Elizabeth Moon, a Texas native, is a Marine Corps veteran with degrees in history and biology. She began writing stories in childhood but did not make her first fiction sale until age forty. She has published twenty-three novels, including Nebula Award winner The Speed of Dark, three short-fiction collections including Moon Flights in 2007, and over thirty short-fiction pieces in anthologies and magazines. Her latest book is Kings of the North (second book of Paladin's Legacy) a return to the world of The Deed of Paksenarrion, and the third in that group, Crisis of Vison, is due out in 2012. The first book of Paladin's Legacy, Oath of Fealty, is now in paperback also.
In non-writing hours, she enjoys nature photography, gardening, cooking, Renaissance style fencing, messing about with horses, and music, including singing in a church choir. And wasting time online, of course...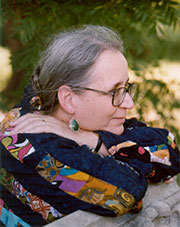 click photo for large version