Michael in an Irish lane between hedges.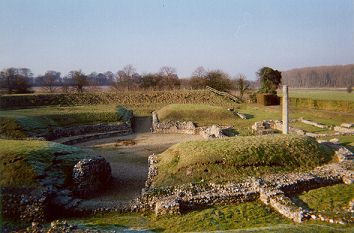 Ruins of Roman theater near St. Alban's. The museum here is excellent, with daily-life exhibits and some gorgeous mosaics and frescos recovered from the ruins of the Roman town.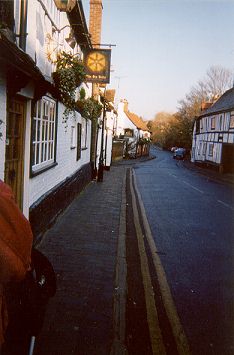 Street in St. Alban's. We ate lunch at the Rose and Crown (down the street from the Six Bells)...note the irregularities in the buildings.


Riding lesson near Cambridge. This was the first time I'd ridden in my new hunt coat. The ground was frozen hard.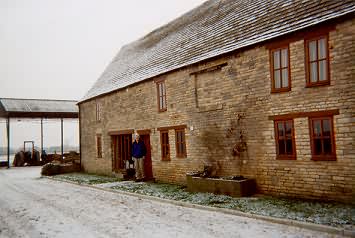 Our hunting B&B, High Leas Barn. Note that Michael is taller than the door, and that there's snow on the hard-frozen ground.


Machynlleth Station in Wales. That two-coach train is the Cambrian Coaster, which took us up to Fairborne, and on another day up to Harlech.


Wales in Winter...this lake's small wooded island, with Cader Idris's snowy crown in the distance, was a magical sight. There's thin ice floating in the lake.


On the way up the Fox's Path...note the snowy mass above. The wind blowing down from above was...cold. The white streak angling across beyond the stone wall is where we turned around (just through the gate in the wall that let us onto it) because it was solid ice and packed snow, and slippery as greased grapes.


Michael on the Fox's Path. This was as far as we got; we'd come back through the gate and you can see the clouds getting dark below. This, by the way, was midday, around 12:30 pm.


Where we left the braid. This is the only little tree around, just off the trail. Just on the other side of the stone wall a little creek bounds down the mountain laughing; the rocks over hanging the hollow are covered with moss (and there's moss under them, too.)


Lake Gwernan Hotel, a welcome sight as we got off the mountain. There's ice in that lake, too, but I didn't care...we had a lovely pub lunch inside where it was warm.


The view out our B&B window on hunting morning: sunlight over the fields.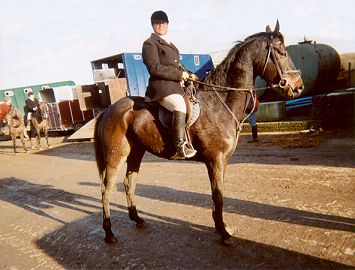 Jack the mighty hunter, not at all tired after carting me around for several hours.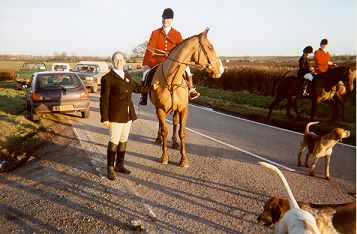 On foot with some of the hunt staff and hounds. This was after I got off Jack and had ridden around with Norman and Michael in the car for awhile.