We sited the pavilion on the SE slope of the brushy knoll, near the existing "solar spring." It should get more exposure for the solar panels.


The two young foxes showed up to supervise construction, but unfortunately did not live to see the pavilion go up. Both died, probably of distemper, in mid-October.


Richard rented a small gas-powered jackhammer to dig the postholes...a longer bit would have been very useful.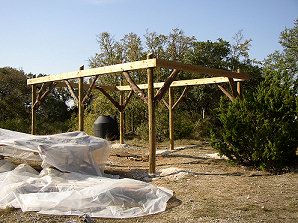 The top framing is done; time for the trusses to go up.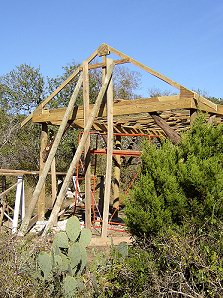 This kind of exterior bracing is needed to keep a single truss from falling over. A lot of work for one little truss.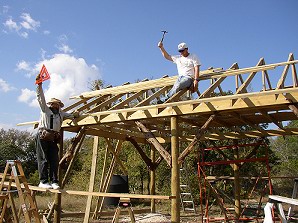 Scott Hawes and Richard got all the trusses up on Friday, October 31. They're putting on the south side purlins.


Hammering in the hurricane clips (braces, tiedowns) in the corners could be a bit tricky.


Caught in the act...not actually hammering.


Richard and Ferris get the first roof panel up


Racing the sun, Richard and Ferris try to get half the roof done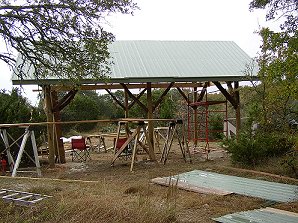 Here's the completed north side roof, and the view from the trail from the solar waterhole to the north fenceline.


Richard showing Michael where he needs to screw in the roof panels.


Long arms really help on this kind of job. Michael put in many of the screws on the south side roof.